Who is the course for?
This is a course for you with no or very limited prior knowledge in the Swedish language.
Objectives
To be able to introduce yourself and talk a little about yourself
To be able to use simple phrases in everyday situations
To understand most of what is said in simple and slow speech about familiar topics
To be acquainted with basic Swedish grammar
After the course you will have some of the knowledge of Swedish at level A1 according to the Common European Framework of Reference for Languages.
Content
The alphabet and numbers
Basic grammar
Basic rules of pronunciation
Vocabulary and phrases: introductions, telling the time, shopping, leisure activities, daily activities, family and relations
Course material
Rivstart A1+A2
, textbook and workbook, by Paula Levy Scherrer and Karl Lindemalm,
second edition from 2014
, Natur och Kultur, Stockholm. The course covers Chapters 1-5. The books are not included in the course fee. Please bring the books to the first class.
Course format
36 teaching hours of 45 minutes each. The course is given on Mondays and Wednesdays at 17.30-20.00 (5.30-8 p.m.) during six weeks.
Registration
Go to "Boka kursen nu". You will be able to choose an application form in Swedish or in English. If you do not have a Swedish personal identity number, please use the English form, state your year of birth, month and day, and state what country you are a citizen of. When booking the course, you can choose to pay by invoice or directly by credit card (invoice only possible with a Swedish personal identification number).
You will receive a confirmation of the booking shortly after you have applied. About a week before the start of the course, you will receive a course notification with practical information and an invoice for the course fee if you have chosen this payment method.
For information about the terms of registration, please follow the link below.
We appreciate if you book the course at least two weeks before the planned starting date. Please note that we might cancel a course if we haven't recieved enough applications about two weeks before the planned start of the course.
Student discount
If you are a student (not PhD student) at a Swedish university or college, we give you a 20 % discount on the course fee. Let us know if you are a student in your application.To get the discount, you need to choose payment by invoice and state your student card number. We do not pay the discount back if you have already paid by credit card. (That is if you have a Swedish personal number. If not, you need to prepay the full amount with your credit card and we will make a refund of the discount.)
Swedex: Swedish Examinations
Swedex is a unique, internationally viable Swedish language exam designed by Folkuniversitetet. The exam is available at different levels, A2, B1 and B2, and can be taken irrespective of how you have learnt Swedish. If you want to take the test, please contact one of the test centres. Follow the Swedex link below.
Anna-Karin Andersson
Anna-Karin har studerat språk, statskunskap och lärarprogrammet vid universiteten i Uppsala och Växjö. Dessutom har hon studerat och arbetat i Frankrike, Belgien och Storbritannien.
Anna-Karin har utöver lärarjobbet lång erfarenhet av att arbeta som översättare. Hon fascineras av språkets möjligheter och egenheter, en fascination hon gärna delar med sig av.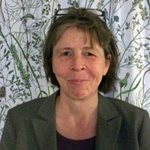 Har du frågor?
Kontakta Folkuniversitetet i Uppsala