Projects
Professional portfolio of our department consists of over 50 different self-initiated projects in vocational and adult education, integration policy and empowerment. Furthermore, we were partners in more than 20 projects in education, integration, and age management.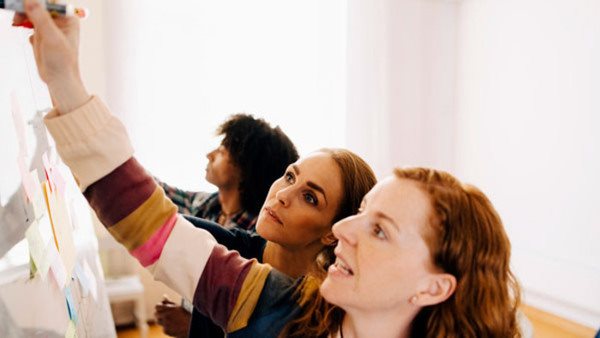 CURRENT PROJECTS
CRITICAL
The present connected society is full of promises but the online world also brings dangers related to cyberbullying, social exclusion, fraud, false information and many other potential problems.
The objective of the CRITICAL project is to work with and empower trainers to help their students be prepared for the online world. This will be realized through active and collaborative learning methodologies whereby students engage in activities that promote higher order learning skills like critical analysis, synthesis, and evaluation.
To learn more about the project visit the project Facebook page: @criticalprojecteu or visit the project webpage at: http://www.critical-project.eu/.
COMP-UP
A PIAAC Survey of Adult Skills shows that 70 million Europeans struggle with basic reading and writing, calculation and using digital tools in everyday life. Without these skills using a machine to buy a train ticket, read to their children or understand written safety precautions becomes difficult and a barrier to social and work inclusion. In this context the COMP-UP Consortium aims at updating competences of Adult Education Professionals (AEP) who support adult learners is a reply to improve the literacy, numeracy and digital skills of the target group.
To learn more about the project visit the project website at: https://comp-up.erasmus.site/sv/#project
TEACH
The Erasmus+ funded TEACH project aims to identify the needs of institutions in adult education for dealing with conspiracy theoretical mindsets.
A transnational and multidisciplinary team of experts from theory and practice will develop instruments for measuring and continuous monitoring of the presence of conspiracy theories among participants of adult education classes. Additionally, a methodology is to be developed, aiming to enable educators to handle and to react to theories relevant to their environment.
Special emphasis will be placed on European cooperation in order to ensure that the projects´ products can be applied in all EU countries.
To find out more visit the projects webpage at: https://www.idd.uni-hannover.de/en/research/projekte/teach/
e-STEP
e-STEP project will design and test a training and coaching syllabus on key competences to low-skilled and vulnerable young adults, taking also advantage of the use of digital tools and learning.
Key competences addressed will mainly include digital, communication and social skills, along with learning to learn, entrepreneurship and cultural awareness and expression, but with the particularity that the learning contents will be specifically chosen based on the final beneficiaries' identified needs and educational shortages. In order to enhance their motivation, the final beneficiaries will play a key and a very active role since the project inception, participating in the identification of their own training needs and in the design of the learning syllabus they will be benefited from.
To find out more visit the projects webpage at: https://estepeu.wordpress.com/
HaveYourSay (HYS)
In this creative Erasmus+ project innovative forms of educational activities for young adults will be created to help them re-assess their attitudes towards the EU in a process of reflexion, discourse, and fact-based thinking, delivered in an activating, communicative, possibly joyful and inspiring way. The new methods, tested in 8 pilot projects in 7 partner countries, will tend to be out-of-standard-classroom activities including games, interaction, movement, creativity. They will be applicable in other adult education contexts as well. Website
An Empowerment Toolkit for Trainers for the Development of the Social and Cultural Competence and Media Literacy for Low Skilled Migrant Women – EMKIT2 (2018-2021)

The project aims to empower low skilled migrant women by developing 42 digital tools for trainers for implementing innovative workshops to develop the social, civic, cultural and media literacy (SCM) competences to achieve active citizenship according to the Active Citizenship Scale (AC Scale). Website
Youth Entrepreneurship Advanced Pathway (YEAP!) (2018-2020)

The project aims to instill a spirit of (social) entrepreneurship among young people – through initiative-taking, building confidence calculated risk-taking and creativity. By placing the needs of young people at its centre, the project is developing a set of activities and a variety of methodological approaches to support their integration into the labour market either as self-employed people or as entrepreneurs. Website
TELL ME ABOUT IT (TELL)
– STORIES BUILDING BELONGING AND DEMOCRATIC INTEGRATION (2019-2021)The project tackles the challenges related to participation in and access to the labour market and the challenges related to minorities and immigrants. The project promotes young immigrants' integration and aims at preventing youth exclusion. The main target group is young immigrants in Central Baltic region (aged 16-29) in Kotka and Uppsala
.Website
NOAF - No Alternative Facts (2018-2020)
The project addresses the need to promote media literacy through an innovative train-the-trainer format aiming at
a) Providing adult educators with useful skills and action-oriented methods on how to develop young people's digital competence
b) Enhancing digital competence of young people 15-25
c) Increasing media literacy, especially critical thinking, of young adults in the age of fake news. Website
Igma-Femina (2016-2019)
aims at improvement of accessibility of migrant/refugee women to adult education and gender-sensitive counselling in order to increase their chances to enter labor market. Website
KISA (2016-2019)
- Kortare Integration Snabbare till Arbete (ESF). The overall objective of the project KISA is to elaborate new methods for more effective integration of the newly arrived immigrants into the labour market.
ARISE (2017-2019)
(Appetite for Enterprise) The aim of the ARISE project is to promote the social and entrepreneurial capacities of migrant women. Website
Sofie (2017-2020)
(Support for empowerment and integration of refugee families) SOFIE is a 30 months project which aims to face the actual European need of social integration of refugee families, as one of the most vulnerable targets to the host societies.
QC-VET (2016-2019) (Promoting quality culture in VET)
The overall objective of the project is to support VET leadership in motivating and engaging VET teaching staff in the implementation of quality initiatives at VET institutions by improving prior elaborated guidelines. Website
QUASER (2016-2019) (Transparent qualifications for boosting the quality of services addressed to asylum seekers and refugees)
The project aims at enhancing the transparency and recognition of ASRs operators' qualifications to facilitate employability and labour mobility, and for improving the quality of services addressed to asylum seekers and refugees. Website
ARIVE (2017-2020)
aims at development of quality learning opportunities in order to encourage low-qualified and low-skilled humanitarian migrants to assess and upskill their competences in order to enter the labour market at early stages.
Clap Hands (2017-2019) (CREATIVE LAB : ACCESS TO PROFESSION FOR PERSONS WITH HANDICAP)
To answer the employment objectives Horizon 2020 which cannot be fulfilled without contributing to a better access to employment for people with disabilities, CLAP aims to allow the development of professionalization of these people in artistic and cultural businesses, by an inclusive perspective.
LOWE (2017-2019)
to develop partnerships between VET world and enterprises in order to promote work-based learning in all its forms, with a focus on local and regional dimension to produce concrete results. Website
Mingle
This project aims to facilitate integration in host societies for migrants and refugees primarily through social and human capital building/accumulation.
EQAVET-QSE-VET (2017-2020)
This project aims at providing basis for European policy development of EQAVET, especially with regards to indicator 5 and 6 and to provide necessary methods for VET authorities and VET provider for assessment of relevance of skills provided by VET-institution with regards to regards to skills demanded by employers. The standards will include both core skills and transversal skills/key competences based on descriptors for indicator 5 and 6 in EQAVET.
ENABLE (2016-2019) (Enhance self-awareness and balance the personalized learning in ESL prevention through a Smart Learning Environment)
The ENABLE Project aims at developing a new learning eco-system in supporting of Early School Leaving (ESL) prevention. Website
Ukraine - development of democratic social partnership model
The aims of the project are creating of a well-functioning social partnership and establishing of cooperation between local/regional authorities and NGOs/CBOs with resource centers as a support and mediator in this process.
Nordplus (2017-2019) Informal Adults' Education for Cultural Tourism Promotion between the Baltic and Nordic Countries
Development of cultural tourism routes and competence of specialists in the field of culture.



FINISHED PROJECTS
igma3 (2015-2018) Website
WE GO! (2016-2018) Website
QSpirit (EQAVET in Practice) (2015-2018) Website
CS. Tour (2015-2018) (Cultural Awareness and Social Skills Key Competences in Tourism) Website
QM Project (2015-2018) (The expansion of the EU-approaches to providing the partner-countries higher education quality assurance Expanding Quality Assurance) Website
Innclood (2016-2018) (Inclusive Neighbourhoods - Researching opportunities for intercultural learning)
Q4ADHD (2016-2018) (Quality Assurance in VET for learners with attention deficit hyperactivity disorder) Website
SEE-ME (2017-2018) (Methodology for Early Warning detection of risk for Early School Leaving)
EARLY LEARN TO LEARN ENVIRONMENT (EL2LE)
Methodology for Early Warning detection of risk for Early School Leaving (ESL)
JudEx+: Towards a child-friendly justice in cases of sexual violence against children.
(WaW) We are dreamers, we are shapers, we are what we want to be Website
Pathway from EQAVET to NQAVET
"EU Integration Agent" - IGMA II
Practical Methodology for Acquiring Key Competences of EU Reference Framework through Continuous VET
Learning City
Project "Human Rights in practice" ("MR i praktiken")
Leonardo development of innovation "Expanding the quality 'spirit' of VET (Q &VET)" Website
Expero4care Website
Leonardo, transfer of innovation "Facilitating a Common Quality Assurance Framework through Peer Review for VET", Peer Review for CQAF-VET Website
Leonardo learning partnership "M-learning and other good practices in I.C.T. teaching" Website
Project "Competence development for immigrant NGOs" ("Kompetensuppbyggnad för invandrarföreningar")
Common Quality Assurance Framework-VET, a provider online model, "CQAFVET-online
CERF. Certification Standard for European Reference Framework Key Competencies
Leonardo network "Age Management in Practice: Improving Access to VET/CVET for Older Workers Across Europe" AMaP
Learning through Innovative management concepts to ensure transfer of Knowledge of Elderly people"
Grundtvig multilateral "Innovative Guidance Methodology for the Integration of Low Skilled Immigrants into Adult Education"
Grundtvig multilateral Empowerment kit for immigrant women with low education.
Grundtvig partnership "Academy of New Possibilities - parents schools as a way of increasing competences connected with looking after and education of children"
Leonardo development of innovation "Validation of Formal, Non-Formal and Informal Learning: The case study of Personal Assistants", EUPA
Leonardo development of innovation "Smart languages need oriented toolbox for Europeans", SL-tool
Leonardo, transfer of innovation "Operational model of "Common Quality Assurance Framework" at VET-provider level", CQAF-provider model*
Leonardo development of innovation "European manager for intelligent and responsible territories", GETIR
Leonardo, transfer of innovation "Methodological Toolbox for Development of New Skill for Future Jobs", JS-Toolbox*
Nordpus Vuxen "Nordic network for empowerment of immigrant women with low educational/working experience"
Nordplus Vuxen "STILL ACTIVE - A Communication Tool for Fighting Social Isolation"
Swedish Institute "The Baltic Network for VET"
Sida "Introduction of Modern Methods and Models in Labour Market Training in Minsk, Belarus"
Sida "Development of Labour Market in Arkhangelsk region"