The programme
The Guitar Maker programme is a free, three-year programme intended for people who are looking to acquire a solid vocational education in guitar making. The programme allows students the opportunity to complete a qualifying piece of work in their final year.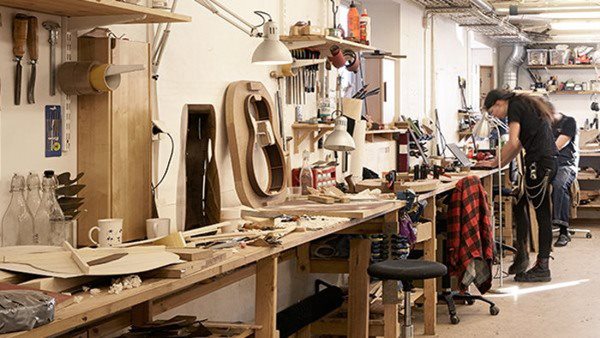 Basic handicraft techniques (Year 1)
The programme is grounded in solid craftsmanship, hence in the first year you will study tool care and maintenance, wood machining and basic handicraft techniques.
Advancement in manufacturing techniques, restoration and maintenance (Year 2)
During the second year, your technical knowledge will be advanced and your craftsmanship refined through practical applications. You will also study subjects such as music history.
Work experience and graduation project (Year 3)
The third year leads to a graduation project. A 23-week work experience course (LIA) will allow you to choose the field in which you are most interested in working.
Eligibility for Higher Vocational Education
Chapter 3, Section 1 of the Ordinance (2009:130) on Higher Vocational Education, including the amendments pertaining to the Ordinance amending the Ordinance (2009:130) on Higher Vocational Education (SFS 2011:110), states that eligible applicants for this programme are people who:

1. have graduated from an upper secondary school or municipal adult education with an upper secondary qualification,
2. possess a Swedish or foreign education equivalent to the eligibility requirement stated in 1,
3. are resident in Denmark, Finland, Iceland or Norway and entitled to an equivalent education, or
4. due to a Swedish or international education, practical experience or for any other reason possess the prerequisites to assimilate the programme.
Earlier provisions on eligibility still apply for applicants that graduated from a full national or specially designed upper secondary school or upper secondary adult education programme prior to 1 July 2015, that is you are eligible for admission to a higher vocational education programme if you have the lowest grade Pass in at least 2,250 upper secondary credits. Furthermore, applicants who fulfilled the previous eligibility requirements prior to 1 January 2013 are also considered eligible.
Costs and funding
The programme is free of charge and participants are eligible for student aid.
Dates for the next programme start
The programme starts in August 2022.