The Programme
The Guitar Maker Programme is a free, three-year programme intended for people who are looking to acquire a solid vocational education in guitar making. The programme allows students the opportunity to complete a qualifying piece of work in their final year.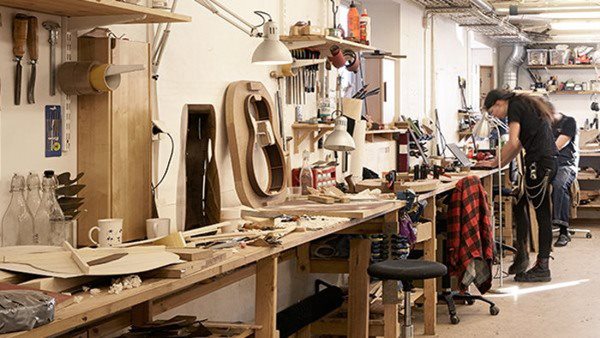 Basic handicraft techniques (Year 1)
The programme is grounded in solid craftsmanship, hence in the first year you will study tool care and maintenance, wood machining and basic handicraft techniques.
Advancement in manufacturing techniques, restoration and maintenance (Year 2)
During the second year, your technical knowledge will be advanced and your craftsmanship refined through practical applications. You will also study subjects such as music history.
Work experience and graduation project (Year 3)
The third year leads to a graduation project. A 23-week work experience course (LIA) will allow you to choose the field in which you are most interested in working.
Languages
If there are international students attending, teaching is given in English. However, the system language for some of the IT programmes we use for admissions and programme administration is Swedish.
Costs and funding
The programme itself is free of charge and students are eligible for student aid.

There is a cost for materials if you wish to keep the guitars that you build. Tools are provided by the school but students are free to acquire other tools if they wish.

Personal safety equipment, such as masks, is acquired by students themselves. Other costs may include printing, study visits and other minor expenses.
Dates for the next programme start
The programme starts in August 2023.