BEGINNERS COURSE
Prerequisite skills
This course is ideal for those with little or no acting experience, providing the chance to explore acting techniques in a playful and practical way, while having fun and learning to be part of an ensemble. If you haven't been on stage since school, or have always held a secret dramatic desire, this course is the ideal place for you to give acting a go.
Goal
The goal of the course is for the students to experience and discover a living awareness of the human body and voice as expressive instruments, the joy of working in a group and the strength that comes from discovering new things about yourself.
Course description
Using a combination of improvisational and Stanislavsky technique, the teacher will pull out your strengths and push you to places that will surprise you!
The course will also be valuable for developing life skills, irrespective of whether you want to pursue acting in a sustained way, amateur or professional. Just the simple act of getting up in front of people each week and trying out something new teaches you a lot about yourself and how you relate to people. It hopefully enables you to strengthen those areas you feel are weak, and re-discovers talents that have been asleep for a while!
Topics covered include
Exploring the use of the voice and body in acting.
Finding the playfulness and fun in performing through improvisation.
Building confidence for performance.
Rehearsing a scene from a play or film.
Course steps
Relaxing the body:
In this first step of the course we focus on relaxing exercises to ground, focus and open up the body to breathing, speaking and moving on stage.
Breathing:
The second step involves finding a proper, relaxed and focused breathing to be able to eventually use the full power of your voice. There is a strong speaking voice in each and every one of us but very often it is trapped in tension and bad speaking habits. Breathing properly is the first step to finding 'your' voice.
Voice:
With a relaxed body and a relaxed breathing we now go on to voice exercises which allow us to find our true voice and tone, freeing up our vocal chords and tensions in the head, neck, jaw and chest.
Body in relation to space:
In this step we explore the body in relation to the space around us, learning how to 'fill' the room while interacting with those around us.
Learning how to improvise:
An introduction to the basic rules of improvisation. What is improvisation and the different styles and methods that apply.
Approaching a text with the method of Stanislavsky:
Text analysis, reading a text, objectives. Trying out a text in front of people.
Building a character:
Different methods and techniques to create a believable character.
Working on a scene:
In this last step of the course we work on a dialogue from either a film or a play that we present in front of the group.
Continuation possibilities
All of our acting courses offer continuing courses where you can further develop your skills. If you want to learn to sing, we provide courses to help you get started.
Kursledare
Samuele Caldognetto
Samuele undervisar både i italienska och teater på Folkuniversitetet sedan hösten 2009 och är mycket uppskattad av sina deltagare.
Samuele föddes i Milano och är uppvuxen i Italien där han har studerat teater vid universiteten i Florens och Milano. Han började utbilda sig till skådespelare med teatergruppen La Compagnia di Proteo. De följande åren började han studera regi och började arbeta som regiassistent i samma grupp. Samuele har arbetat med flertalet teaterproduktioner och som teaterlärare från 2002.
År 2001 regisserade han sin första pjäs, "La calza idiota. År 2005 startade han kulturföreningen "Isenzatetti" där han fortfarande är aktiv och för vilken han är konstnärlig ledare, regissör, skådespelare och scenograf. I tre år har han satt upp pjäser vid kända teatrar i Milano som t.ex. Don quijote & Donna quijota"," Il buio oltre il sogno" och "Happy days" av Samuel Beckett. Samuele flyttade till Stockholm 2009 och bildade kort därefter den italienska teatergruppen TeaterPi, vars första pjäs La signorina Papillon spelades upp vid Teaterverket i juni 2010.
---
Samuele Caldognetto has taught both Italian and theatre at Folkuniversitetet since Autumn 2009 and is highly regarded by his students.
Samuele was born in Milan and grew up in Italy where he studied theatre at the universities of Florence and Milan. He trained as an actor with the theatre group La Compagnia di Proteo and then went on to study directing and began working as an assistant direct in the same group. Samuele has worked with several theatre productions and has been a theatre teacher since 2002.
In 2001 he directed his first play, "La Calza idiota". In 2005 he founded the cultural association "Isenzatetti" where he is still active and for which he is the artistic director, director, actor and set designer. For three years, he directed plays at famous theatres in Milan, among them "Don Quixote & Donna quijota "," Il buio oltre il sogno "and" Happy Days" by Samuel Beckett.
Samuele moved to Stockholm in 2009 and shortly after this founded the Italian theatre group TeaterPi, whose first play "La Signorina Papillon" was performed at Teaterverket in June 2010.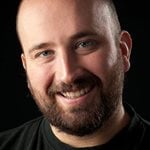 Har du frågor?
Kontakta Kundtjänst i Stockholm