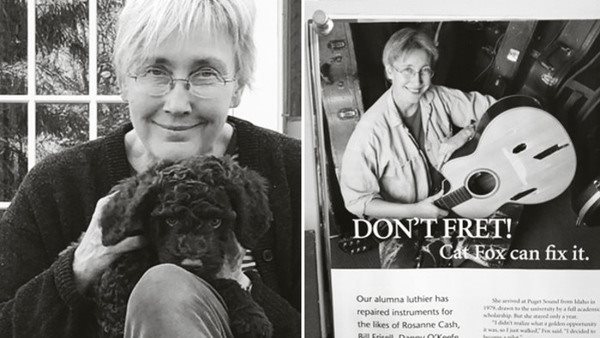 How did you become interested in lutherie?
"I became interested in lutherie when I had lost my focus of becoming a pilot. It became apparent to me that I just wasn't cut out for it. I was driving across the West, and I asked myself: 'What do I like to do?'. The answers were: 1) work with wood, 2) hang around with musicians and 3) party (I was 20)."
"So I thought: 'How can I combine all those things?'. The answer was: build guitars! I drove to the first music store I found and asked the repair tech where he learned to do what he did, and he said he went to Red Wing Vo-Tech. So I quickly applied. It was a great start. The teacher at that time was a fantastic luthier. I felt like this was my scene. I loved everything about it."
How have you experienced changes in the business climate for luthiers over time?
"For me, not really. I've been doing repair forever, and it seems like it never stops."
What qualities would you say are good to have as a guitar builder?
"I'm going to have to remind everyone that I'm mostly a repair tech, so I look at it from a repair tech point of view. I think a good guitar builder has studied the "fossil record" and isn't trying to re-invent the guitar. They should not be building guitars out of ego. They should have studied it with a good program, and they should be humble about what they don't know so that they can learn from their mistakes and from other people. They should, of course, be careful and exacting craftspeople, and also know something about running a business."
Is there a difference in the view of hand-built guitars today compared to back in the day - in what way?
"Oh, now we have our 'superstar' builders. It's all ego driven, and it's ludicrous. Look, at the end of the day, guitars are tools, They can be gorgeous works of art, but if they don't work correctly or play in tune, what good are they, really?"
If you were to choose two work steps from the entire construction process, which steps do you think are the most fun?
"I love choosing the wood and trying to envision how it will look and work with the project. I also like carving the braces, because you get to use your chisels and it's fun!"