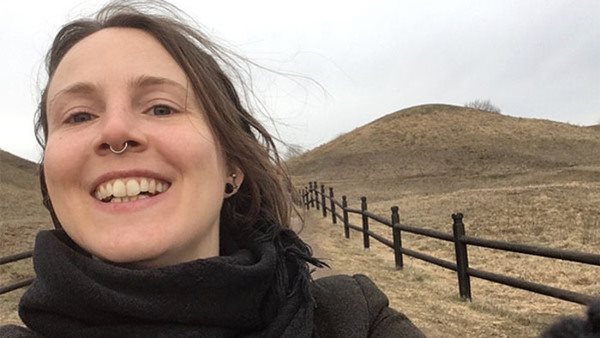 39-year-old Sina has only lived in Sweden since last summer, although she'd been to Sweden many times before on holiday and to visit friends. The decision to move to Sweden and start studying at Musikinstrumentakademien stemmed from her need for change:
"I needed a career change from social work and I've been interested in historical crafts all my life. I also play guitar of course. I started talking to luthiers in Germany and did a lot of research on different guitar builder programmes in Europe. I flew over to Stockholm to have a look for myself, talked to teachers and other students and liked the workshop atmosphere and the teaching system right away. So I applied and got in! I was a bit surprised that I'm the first woman to study here in years, but it makes no difference to me."
What do you like best about building guitars?
"I love the combination of working with my hands and my mind. I like working with wood and creating something from scratch. I also like working with sound. The sound is the big difference from building furniture or ships, for example."
Tell me about what you're doing in school right now.
"At the moment I'm building my second guitar, a traditional steel string guitar. Most of the construction work is finished, but the small details and the finishing process always takes the longest time. I put lots of effort into the decoration. For me it's not only important to have an instrument that sounds nice, but also one that looks unique".
What do you like best about studying at Musikinstrumentakademien?
"I really appreciate that it's a kind of laboratory atmosphere where our teachers encourage us to try out new things. We have our deadlines but we mostly work independently. It was very important to me that it didn't feel like a regular school. I also like the fact that the teachers all have different approaches so that I get to learn different ways of doing things."
Do you have any advice for future students at Musikinstrumentakademien?
"Talk to people who work as luthiers before you apply to form an impression of working life. And come over and visit us and this amazing place. Everybody will be happy to show you around. It's good to know what you want and what to expect before you apply."
What are your plans for the future?
"I hope to earn at least part of my future income with guitar building or repairing. I'm very interested in old instruments and in restoring them. I'm looking forward to my internship and I'd like to build a lute. At the moment, I'm not sure if I'll stay in Sweden or go back to Germany, or somewhere completely different."
Guitars made by Sina: