Distance course 2 in Swedish for Medical staff is to be seen as a complement to the distance course 1 in Swedish for Medical Staff. You can start the course any time.

Areas covered in the courses
Dictation of names and numbers
Presentation of medical professions and environments
Illustrations of body parts, inner organs, medical instruments,
appartus and clothes.
Dialogues about diets, health care, vaccinations and conversations that can be heard in the staff room
Side-effects of different drugs
Course literature for distance course 1 and 2 in Swedish for Medical Staff:
Helander, Annika & Parada, Mai.
Svenska för sjukvårdspersonal/Swedish for Medical Staff
CD 1 and CD 2. Folkuniversitetets förlag, Lund 2004
Kursledare
Annika Helander
Annika Helander was born and grew up in Sweden, where she has been teaching the Swedish language and culture since 1984.
She is coauthor of several textbooks in Swedish as a foreign language and in Medical Swedish. She is also a coach and creator of nine distance courses in Swedish and in Swedish for Medical Staff, for students from all over the world.

In her professional life, Annika has a long experience in teaching at Joint Summer School, Swedish Language and Orientation Program, summer courses, year programs, tutorials, also mentoring and supervising new language instructors. Working with academic professionals and university students from many different countries in the classroom, the virtual classroom, as well as one-on-one, corporate courses and with validating professional language skills.

Together with her colleague, she is currently an editor of the web magazine Midioma designed for everyone who wants to keep up with the Swedish language. Annika is an examiner of Swedex, a certificate in Swedish at three levels, according to the Common European Framework of Reference. She is also an examiner of university exchange students, formerly Erasmus and lately University of California, and really passionate about her work.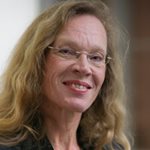 Har du frågor?
Kontakta Folkuniversitetet i Malmö