Kursinnehåll
Information kommer inom kort!
Susi (Maria Jesús) Murillo
If destiny is written, mine is making people understand each other. When we learn a language we also learn a new way of living.
I am a Spanish teacher who recently moved to Sweden although I have visited this country several times and I love it. I am 36 years old and I am from Madrid, Spain. I have always lived in Spain, so this is my first time living abroad.

I am a graduate Spanish teacher and also a Teacher training in Speech and Hearing, which is a frequent specialty in Spain. For more than ten years I worked with different kind of students: children with hearing problems, language acquisition or learning disorders, adults, ...
My responsibilities have always been helping them to communicate and build a proper language in order to have a proper thinking system. I have always used Spanish as the working language so that my students can make the most of it with a precise linguistic role model.

I am a real "Madrileña" and I have enjoyed my life a lot taking long walks in the centre and the secret places of Madrid. I love knowing new places, but what I like the most is discovering places that tourists don't get to. I prefer to be a traveller instead of a tourist.
I speak Spanish, LSE (Spanish Sign Language), English and pite lite Svenska (I am improving little by little). In my free time I draw, read comics and I stay informed about social and political aspects from my country and the world. I also like music and dancing whenever I can. I consider myself as a creative person constantly exploring and discovering new ways of expression.

I believe that each student is the protagonist of their learning, they are the only ones who know their rhythm and which are their strengths and weaknesses. I can walk with them through training but they have to do the important work. I think learning a new language is not only based on the linguistic aspects, but also on the social and cultural aspects. That is why in my classes you are going to learn not only grammar and vocabulary, but Spanish way of life and thought too.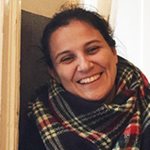 Har du frågor?
Kontakta Kursverksamheten i Malmö