Welcome to our IELTS preparation course, where we'll look at all four components of the test – Listening, Reading, Writing and Speaking - and focus on examination strategies and preparation tips.
We'll look at the different question types for Listening and Reading, as well as essential language for Writing Tasks 1 and 2, and practical speaking activities.
The IELTS (International English Language Testing System) exam is an internationally recognised alternative to the TOEFL test. It's recognised in the UK, Australia, New Zealand and in over 100 universities in the USA. IELTS is jointly managed by British Council, IDP: IELTS Australia and the University of Cambridge English Language Assessment and delivered through more than 500 locations in over 130 countries
The exam is held regularly in Gothenburg and candidates receive their results within two weeks.
Please note that the course does not include application to or payment for the exam.
Kursledare
Toi Boonyai
Toi is an English teacher at Folkuniversitetet in Gothenburg.
I was born and spent most of my teenage years in Thailand. Since leaving Thailand, I have lived in several countries including Italy, where I learnt Italian. I have also spent many years living in the United Kingdom and during this time, I became fluent in English. I also developed a love of British culture and all its idiosyncrasies which I hope helps bring my language teaching to life.
Since moving to Sweden years ago, I have worked as a teacher of English at all levels of competency. I also work as a Speaking examiner for Cambridge English exams at all levels.
To me it is extremely important that language lessons are lively, interactive and fun so that learning becomes easier. I believe if you have fun while learning, you will learn more without even realising it.
My interests are music, food and sport - in that order.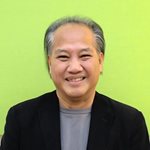 Har du frågor?
Kontakta Folkuniversitetet Göteborg språk. Tel: 031 - 10 65 10