Who is this course for?
This course is for students at B2 level who aim to reach C1 advanced in the long run.
Course objectives
Improve your ability to talk about contemporary business issues and develop your accuracy in English.
Build your confidence and up-date your vocabulary through discussion activities.
Practise skills such as taking part in meetings, negotiating and report writing.
Expand your business English vocabulary.
Course content
Culture Awareness- focussing on business cultures from 5 continents.
The digitalisation of work and employment.
Formality and informality in the workplace.
The three main generational groups in the workforce.
How we "connect" today compared to how we ''communicated'' 15 years ago.
Teacher
The course is taught exclusively in English by a teacher who has English as a native language.
Behöver du ett annat upplägg? Hör av dig! Vi tar fram skräddarsydda lösningar för alla typer av undervisning.

Du når oss på:
046-19 77 00
kurser.syd@folkuniversitetet.se
Kursledare
Anne Coghlan
While she is Irish by birth, she is a globetrotter by nature!
Before coming to Sweden she worked in the banking world. After 10 years in that profession at various locations in Ireland, she moved into tourism and the retail Industry. It was while working with this that she met "her Viking" and relocated to Malmö.
That was 20 years ago. At that time she thought it would be exciting to become a florist, which she did. However, she was approached by many business people to coach them in Business English, as she came from a professional world. She decided to qualify as an English teacher and it has become her present career. She set up her own company and has travelled all over Skåne working with all the bigger organizations. Since 1998, she has worked full-time with her present employers.
Nowadays, it's not just the language she teaches. There is more and more demand for coaching in Interculture Awareness. Each week she meets about 15 different nationalities, which she finds very stimulating.
Apart from having fluent English and Swedish, she also speaks French and lived in Paris for 2 years while she was studying. Just now, she is improving her Spanish.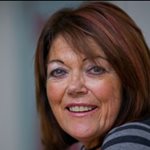 Har du frågor?
Kontakta Folkuniversitetet i Lund