Target Audience
You are required to utilise English in work or business situations. This could be face to face, teleconferencing or over the phone.
Alternatively you are a capable English speaker, employed or unemployed, and are seeking a new career role that may require you to utilise superior English language skills more often. You should be at C1 level.
Course Goals
During the course you will develop business English communication skills with a specific focus on individual and group coaching on English pronunciation, grammar and usage, as well as professional vocabulary.
Course Design The course will be five sessions, each 3 study hours.
In the first session, the teacher will meet with each student individually for 20 minutes. During this meeting, we will complete a diagnostic needs analysis so that together we can identify the student's specific issues and opportunities for improvement.
We will audio record the session as a reference. We will set an initial learning and practice plan for the course duration. In order to track improvement, at the final session of the course, we will repeat the diagnostic needs analysis exercise and compare the improvement to the original first recording. Individual feedback and coaching for the benefit of the student and the entire class will continue for the duration of the course.
Course structure
The classes are primarily devoted to verbal communication. Students' involvement is encouraged and challenged in both speaking and listening. Most weeks we democratically set topics to prepare for next week's vocabulary list and group discussion.
We work in pairs, in small groups, as an entire class and sometimes one-on-one with the teacher. It is most constructive that students maintain their motivation and learning momentum by revising past week's content and next week's topics in their spare time. Reading materials relevant to agreed topics and learning new vocabulary lists is encouraged. Students are encouraged to bring topical business issues and questions to class to inspire creative class discussions.
Course Material
Provided by the teacher with references to Business English Texts, current business articles and topical business forums.
Kursledare
Arthur Greenberg
– I like to bring my many years of business experience to my courses, and so we focus on practical communication skills that students can use right away to help them advance their business careers. When I'm not teaching at Folkuniversitetet, I like to travel and explore Europe.
Arthur is a retired business executive and management consultant originally from the US, now living in Gothenburg. My business experience includes marketing, finance and leadership, both in the US, here in Sweden, and internationally.
- I have an undergraduate degree in Philosophy from the University of Michigan, and a Master's degree in Communication from the Annenberg School for Communication, University of Pennsylvania.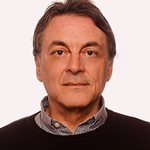 Har du frågor?
Kontakta Folkuniversitetet Göteborg språk. Tel: 031 - 10 65 10