English at Work
For any person speaking or writing English in a working environment or with international contacts. You will learn the basics to strengthen your formal skills in English speaking, writing, reading and listening.
Previous knowledge:
This is a course for people with knowledge from level B2 and up. If you are not sure which level of English you understand, you can try our web-based language test.

Goal:
You will learn how to communicate in professional situations by using the right words, expressions and simple speech patterns for conversations, writing e-mails, letters, attending meetings and giving presentations.
Course Content
During the course you will learn:
Content and structure of e-mails and professional letters

Professional profile and CV in English
How to find, apply and interview for employment
Creating and giving Powerpoint presentations.
Writing and speaking exercises
Tips and tricks to use at work every day
The course will be taught by a native English speaker, while the focus is on speaking, reading and writing English with simple and fun instruction. Starting with practical situations, we will work with individual and team exercises. You will write about subjects in working situations and then present the results to the group.
You are expected to be active in each of the lessons and will have the chance to influence the course of discussions and course content. There will be some homework, but most of the work will be done in class.
Course Literature / Textbooks:
Course literature is not included in the price of the course. Information about which literature to use and where to buy it will come after the first class or you will be given information upon sign-up.
Kursledare
Gina Hildinger
Gina is a professional Copywriter with 25+ years communicating and writing for business in English. She grew up in the U.S.A. and has lived in Boston and Orlando, before relocating to Norrköping in 2015.
På svenska: Gina är copywriter med 25 års erfarenhet av kommunikation och skrivande på engelska i affärssammanhang. Hon växte upp i USA och bodde i både Boston och Orlando innan hon flyttade till Norrköping 2015.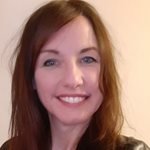 Har du frågor?
Kontakta Kundtjänst Norrköping