Course elements
Tools for critical thinking and visual analysis
Timeline of Spanish germinal artworks and artists during the 20th century
Recurrent themes and motives
Art related phrases and expressions in Spanish
Course content
During this course you will learn about Spanish artists and culture, with focus on female artists and artists in exile. You will review and discuss the work of Spanish artists that have been engaged with a social and political movement. Artists that has one thing in common, they have all left an important reflection on the specific historical period which they lived in.
Some examples of artists that will be referred to during the course:
Goya, an artist living in a war period and his contribution to the later development of photojournalism
Photographer Gerda Taro, together with groups of female artists collaborating with feminist magazines during the 1930s
Art works of the cubism period such as Maria Blanchard or Picasso and their contributions to the Peace Congress
You will also learn how to analyze artworks belonging to the Spanish culture committed in its most powerful form. A passionate protest touching the times they lived in.
Language of the workshop: English
Prior knowledge required
No prior knowledge required.
Materials
You course leader will bring some materials.
Book the course by clicking the green button Boka kursen nu. There is an option to choose a booking form in English.
Helena Fernández-Cavada
Helena Fernández-Cavada has been working as a visual artist for more than a decade.
Helena Fernández-Cavada is a visual artist that lives and works in Malmö. She tries to draw every day in order to launch questions and play with them, a process that ranges from the conceptual nomadism to the questioning of established relationships.
For more than a decade she has develop projects focused on local contexts; during her creative processes a collection of drawings, images and texts are shaped to dialogue with the history making of that locality. She engages also in pedagogical processes and have guided beginners and professional artist to expand their point of view, encouraging them enthusiastically to go further in their own artistic process.
Fernández-Cavada completed in 2004 a Master in Fine Arts and Categories of the Modernity in Complutense University in Madrid. In 2015 Helena engages again with art research during a residency at Mejan Residents at the Royal Academy in Stockholm. She has exhibited widely both in Europe and the Americas.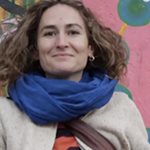 Har du frågor?
Kontakta Kursverksamheten i Malmö