This course is in English, but our teacher understand Swedish and will be able to answer questions in Swedish.
Course content
textures and ink effects
the politics of form
between the micro and the macro world
This is an experimental course designed for you to find your own visual language that you feel comfortable with.
The intention is to try different brushes, tools and diverse techniques to explore a range of forms: for example natural forms, comic language and political matters.
During our sessions we will go through these steps:
explore the visual expression of ink mixed with watercolour
reflect about the politics of form by getting inspired by other artists and making drawings from different perspectives
play with the potentiality of ink to depict the natural world looking between the micro and the macro
In this workshop the protagonist is the participant. You will contribute with your own life experiences, images and everyday observations. This will be the raw material to experiment with watercolour and ink.
Who is the course for?
The course is for you that have some experience in watercolour painting.
The course is held in English.
Materials
Materials are not included in the course fee.
According to our environmental policy you are only allowed to use materials that doesn´t contain cadmium or solvents in our facilities.
Book the course by clicking the button Boka kursen nu. There is an option to choose a booking form in English.
Med anledning av covid-19
Behöver du ett annat upplägg? Hör av dig! Vi tar fram skräddarsydda lösningar för alla typer av undervisning.

Du når oss på:
046-19 77 00
kurser.syd@folkuniversitetet.se
OBS! Den här kursen bokar du genom att ringa eller mejla oss. Du hittar kontaktuppgifter längre ner på sidan.
Kursledare
Helena Fernández-Cavada
Helena Fernández-Cavada has been working as a visual artist for more than a decade.
Helena Fernández-Cavada is a visual artist that lives and works in Malmö. She tries to draw every day in order to launch questions and play with them, a process that ranges from the conceptual nomadism to the questioning of established relationships.
For more than a decade she has develop projects focused on local contexts; during her creative processes a collection of drawings, images and texts are shaped to dialogue with the history making of that locality. She engages also in pedagogical processes and have guided beginners and professional artist to expand their point of view, encouraging them enthusiastically to go further in their own artistic process.
Fernández-Cavada completed in 2004 a Master in Fine Arts and Categories of the Modernity in Complutense University in Madrid. In 2015 Helena engages again with art research during a residency at Mejan Residents at the Royal Academy in Stockholm. She has exhibited widely both in Europe and the Americas.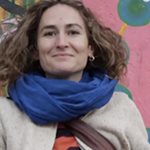 Har du frågor?
Kontakta Kursverksamheten i Malmö