This course is in English, but our teacher understand Swedish and will be able to answer questions in Swedish.
Course content
This is a course that focuses on water, aiming to approach its complexity. From the vision of the seascape to the depths of the ocean. Together we will learn how to draw the surface of the seas likewise we will dive into the ocean to explore the animals that inhabit it. Water is essential in the image making and the history of watercolour, so other artists and literary references will inspire you in this journey.
Watercolour or aquarelle is a great material to draw the ocean. You have the fluidity of the water with pigments to help you elaborate on the movement of the waves and explore the effects of water mirroring. During these three sessions we will look into the already known representations of oceans combined with your personal experiences and literary references to submerge in the richness of it.
During the workshop you will:
focus on the watercolour fluidity and movement in the brush stroke
explore the powerful quality of transparency and reflection
investigate colour in a deep way.
find inspiration from live experience and literary reference
observe distance relationships, from the depth of the landscape to the depth of the ocean
Materials
Materials are not included in the course fee.
We recommend you to read Ocean Sea by Alessandro Baricco (ISBN: 9781786896438) before the course.
Book the course by clicking the red button Boka kursen nu. There is an option to choose a booking form in English.
Med anledning av covid-19
Välkommen till Folkuniversitetet. Här vistas du i en trygg och säker utbildningsmiljö. För att förebygga spridningen av covid-19 är verksamheten anpassad efter Folkhälsomyndighetens föreskrifter och rekommendationer.
Om Folkhälsomyndighetens rekommendationer kring fysisk klassrumsundervisning ändras vid kursstart eller under kursens gång, kommer vi att kontakta dig.
Behöver du ett annat upplägg? Hör av dig! Vi tar fram skräddarsydda lösningar för alla typer av undervisning.

Du når oss på:
046-19 77 00
kurser.syd@folkuniversitetet.se
Kursledare
Helena Fernández-Cavada
Helena Fernández-Cavada has been working as a visual artist for more than a decade.
Helena Fernández-Cavada is a visual artist that lives and works in Malmö. She tries to draw every day in order to launch questions and play with them, a process that ranges from the conceptual nomadism to the questioning of established relationships.
For more than a decade she has develop projects focused on local contexts; during her creative processes a collection of drawings, images and texts are shaped to dialogue with the history making of that locality. She engages also in pedagogical processes and have guided beginners and professional artist to expand their point of view, encouraging them enthusiastically to go further in their own artistic process.
Fernández-Cavada completed in 2004 a Master in Fine Arts and Categories of the Modernity in Complutense University in Madrid. In 2015 Helena engages again with art research during a residency at Mejan Residents at the Royal Academy in Stockholm. She has exhibited widely both in Europe and the Americas.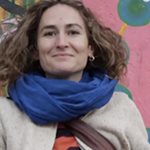 Har du frågor?
Kontakta Kursverksamheten i Malmö