Course content
Landscapes with depth and ambiance
Portraits of your beloved friends or admired historical figures
Figures in motion and patterns

You will work hands on with your own project, common exercises will be mixed with individual tuition. You will explore different techniques within the waterclour, to develop a critical view of images and forms of presentation.

Who's the course for?

The course is for you that have some experience in watercolour painting. For beginners we recommend Aquarelle basic.

The course in held in English.

Materials

Materials are not included in the course fee. You will receive a 10% discount at Lundbergs Artist across the street from the art studio when you show your course acceptance (Kallelse).

According to our environmental policy you are only allowed to use materials that doesn´t contain cadmium or solvents in our facilities.
Helena Fernández-Cavada
Helena Fernández-Cavada has been working as a visual artist for more than a decade.
Helena Fernández-Cavada is a visual artist that lives and works in Malmö. She tries to draw every day in order to launch questions and play with them, a process that ranges from the conceptual nomadism to the questioning of established relationships.
For more than a decade she has develop projects focused on local contexts; during her creative processes a collection of drawings, images and texts are shaped to dialogue with the history making of that locality. She engages also in pedagogical processes and have guided beginners and professional artist to expand their point of view, encouraging them enthusiastically to go further in their own artistic process.
Fernández-Cavada completed in 2004 a Master in Fine Arts and Categories of the Modernity in Complutense University in Madrid. In 2015 Helena engages again with art research during a residency at Mejan Residents at the Royal Academy in Stockholm. She has exhibited widely both in Europe and the Americas.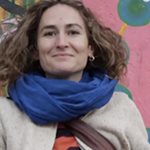 Har du frågor?
Kontakta Kursverksamheten i Lund