Course Goals
1. Gaining a basic understanding of literary history, from the ancient world to the present.
2. Learn linguistic and narrative devices
3. Learn various compositional theories
4. Gain a basic understanding of the complexities facing would-be authors when approaching publishers and agents.
Target group
Anyone already writing in English (or who would like start), as well as those writing in other languages who would like a new perspective on narrative and linguistic theory.
Skills needed
Participants should be relatively fluent in spoken and written English.
Topics covered:
the relationship between fiction and non-fiction writing
sound symbolism, lexicon, and grammar
punctuation and sentence structures: meaningful syntax
linguistic and narrative pacing
modifiers: utilitarian versus poetic (how, when, why)
narrative flow and mechanics: memories and flashbacks
perspective, including shifting between
tense, including shifting between
dialogue and discourse analysis
choreographing action
Course plan
The course is both practical and theoretical. About half our time is spent workshopping our texts, while the other half is spent discussing literary theory, linguistic techniques, writing strategies, and publishing trends. Some of the skills we cover are: syntax and sentence rhythm, poetic devices, descriptive language, phonetic effects, tense, and perspective. The course meets Thursday evenings, 6-9:15 p.m.
Literature
Essays (excerpts from): "The Philosophy of Composition", by Edgar Allen Poe (1846), "Art as Technique" by Victor Shlovsky (1917), "Modern Fiction" by Virginia Woolf (1919), Styles of Radical Will by Susan Sontag. Fiction (excerpts from): A Christmas Carol and Bleak House by Charles Dickens, Monday or Tuesday by Virginia Woolf, Dhalgren by Samuel R. Delany, The Pale King: An Unfinished Novel by David Foster Wallace, The Room by Harold Pinter, Maps for Lost Lovers by Nadeem Aslam.
Teacher
Kevin Frato is a writer, editor and teacher from Ohio, USA, who has lived in Stockholm since 1998. He is the author of the bilingual novel Numera negerkung (King of the Cannibals, Kabusa 2009), and was initiator and co-author of Avståndet mellan, a collective story-cycle involving two dozen authors from Sweden, Norway, and the US (X Publishing 2012). He has also published works with Myrios Novellförlag and Natur och Kultur.
Kursledare
Kevin Frato
Kevin Frato teaches creative writing courses in English at Skrivarakademin.
Kevin Frato is from the USA and has lived in Stockholm since 1998. He has published several books with Swedish publishers Natur och Kultur and Kabusa Böcker, and also written for newspapers and magazines in the US and Sweden.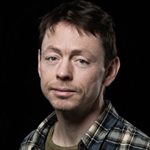 Har du frågor?
Kontakta Kundtjänst i Stockholm