Last day for enrolment: May 25
Prerequisite skills
This course is held in English and are dedicated for you who are 18 years old and up and have either a lot of background singing on your own or just an interest to try out or start to develop your solo singing - both ways are fine! Maybe you've attended our intermediate course and are ready to challenge yourself further. Teaching is meant to be individual and we work with your own interest and experience as a ground.
Goal
The goals of the course are to develop technical skills further, give insight into singing different genres and styles, and work on becoming more self-confident when using the voice and singing solo.
Course content
We practice together in a small group with a maximum of 6 students with focus on different technical and musical things inside the pop-rock-soul-jazz-music styles. During each class everyone will also get to work on solo singing in front of the other group with song(s) of your own choice. To get the most out of the course individual work outside the class is highly recommended.
Things to work during the classes can be for example:
How to handle your voice and tone.
Work with specific singing technical issues.
Work with genre-specific questions with song you have chosen yourself.
Musical phrasing.
Interpretation and self-expression.
Microphone technique.
Being on stage/performing.
It is advisable to talk with the course instructor about any special wishes you have concerning the course.
Schedule
Thursdays 2 June and 9 June at 17:00-19:15 and Saturday-Sunday 4 June, 5 June and 11 June at 11: 00-13:15.
Continuation possibilities
It is advisable to take this course again since the courses never end up being identical with each other. Each individual is expected to set new goals at the beginning of each course. If you want to learn to accompany yourself on guitar or piano or try your abilities in songwriting, we provide courses to help you get started - but please note that theese courses is held in Swedish.
Kursledare
Sanna Ruohoniemi
Sanna Ruohoniemi är turnerande jazzsångare, kompositör och sångpedagog med lång och bred erfarenhet som lärare. Hon har masterexamen från både Kungliga Musikhögskolan i Stockholm och Sibelius Akademin i Helsingfors.
Sanna har undervisat sång i olika musikskolor ända sedan 2010 och har bred kunskap och erfarenhet som sångare i olika genrer, både i olika grupper och som bandledare. Hon har släppt två kritikerrosade skivor – den senaste "Start from Nothing" släpptes hösten 2018.
Sannas undervisning består av olika sångtekniker, grundläggande musikfärdigheter och uttryck; rytm, harmoni, melodi, improvisation, komponering, ensembleledning. Huvudfokus för henne som lärare är att hjälpa varje sångare att hitta verktyg för att bli än ännu bättre sångare utifrån sångarens behov och mål. Att hitta sin egen röst och sitt unika sätt att uttrycka sig på genom musiken är viktigt för Sanna, både som pedagog och när hon musicerar själv.
---
In English:
Sanna Ruohoniemi is a vocalist and a singing teacher. She has graduated as a Master of Music and has studied in three different schools; Kungl. Musikhögskolan in Stockholm (KMH), Sibelius Academy in Helsinki and Royal Academy of Music in Aarhus, Denmark.
Instructor for: Song and choir

Sanna is specialized in the field of jazz, she has gathered strong knowledge from variety of rhythmic music. She has also been teaching for several years.
Sanna's teaching consists variety of singing techniques, basic music skills (rhythm, harmony, melody, improvisation, composing, leading a band) and expression of singing. The main focus for her as a teacher is finding tools for each singer so, that she/he could be free to sing as her/his own needs and will as a guide. Finding one's own voice and the freedom to express oneself in music is important to her both in teaching and in music, as is the joy itself while learning by doing.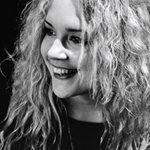 Har du frågor?
Kontakta Kundtjänst i Stockholm