The course will focus on the popular music genres (pop, rock, jazz, musical theater etc.) and most of the songs are chosen according to the group's wishes.
Target group
This course is for you who are 18 years old and up and have a craving for singing is welcome to join the course. To get the most out of the course, individual work outside the class is highly recommended.
Goal
The goal of the course is to begin to understand how the voice works and have fun with it singing in a safe group environment, maybe even trying a little solo.
Prerequisite skills
No previous experience required. However, a carefree and open-minded attitude is warmly welcomed.
Course content
We sing in small groups and the course focuses on getting in touch with the singing voice through basic vocal and breathing exercises conducted in a group. We will learn new songs each week and the participants will also get some individual tuition in singing and the use of voice registers. We will also talk about interpretation and performing. Note that the actual course content depends a lot on the group's skills and the course instructor chooses the songs together with the group accordingly. It is advisable to talk with the course instructor about any special wishes you have concerning the course.
Holidays
Please note that there is no lesson on October 21 and November 4.
Continuation possibilities
All of our singing courses offer continuing courses where you can further develop your voice. The recommended continuing course is Sing It - Continuing course. It is also possible to take this course again since the courses never end up being identical with each other. If you want to learn to accompany yourself on guitar or piano or try your abilities in songwriting, we provide courses to help you get started.
Tip
Take your smartphone with you and record the sessions! Singing in front of others may make you nervous at first, but we will work on that as well. Our teachers are good and let everyone develop at their own pace.
About COVID-19
In order to prevent the spread of COVID-19 and ensure a safe educational environment for our participants, we are following the recommendations of the Public Health Agency. We are adjusting the number of participants per class to ensure that safe distances can be maintained in the classroom. Hand washing facilities with soap are readily available. The premises are cleaned several times a day, especially toilets and surfaces such as tables, door handles and railings. It is the responsibility of us all to prevent the spread of COVID-19, and we kindly ask our participants to show consideration and avoid exposing others to risk. If you are showing any symptoms of COVID-19 (high temperature, coughing – see www.1177.se for more information), even mild symptoms, please refrain from attending your programme or course. We also urge participants from risk groups to refrain from participating in our courses. Keep a safe distance from others and wash your hands thoroughly with soap and water.
Kursledare
Sanna Ruohoniemi
Sanna Ruohoniemi är turnerande jazzsångare, kompositör och sångpedagog med lång och bred erfarenhet som lärare. Hon har masterexamen från både Kungliga Musikhögskolan i Stockholm och Sibelius Akademin i Helsingfors.
Sanna har undervisat sång i olika musikskolor ända sedan 2010 och har bred kunskap och erfarenhet som sångare i olika genrer, både i olika grupper och som bandledare. Hon har släppt två kritikerrosade skivor – den senaste "Start from Nothing" släpptes hösten 2018.
Sannas undervisning består av olika sångtekniker, grundläggande musikfärdigheter och uttryck; rytm, harmoni, melodi, improvisation, komponering, ensembleledning. Huvudfokus för henne som lärare är att hjälpa varje sångare att hitta verktyg för att bli än ännu bättre sångare utifrån sångarens behov och mål. Att hitta sin egen röst och sitt unika sätt att uttrycka sig på genom musiken är viktigt för Sanna, både som pedagog och när hon musicerar själv.
---
In English:
Sanna Ruohoniemi is a vocalist and a singing teacher. She has graduated as a Master of Music and has studied in three different schools; Kungl. Musikhögskolan in Stockholm (KMH), Sibelius Academy in Helsinki and Royal Academy of Music in Aarhus, Denmark.
Instructor for: Song and choir

Sanna is specialized in the field of jazz, she has gathered strong knowledge from variety of rhythmic music. She has also been teaching for several years.
Sanna's teaching consists variety of singing techniques, basic music skills (rhythm, harmony, melody, improvisation, composing, leading a band) and expression of singing. The main focus for her as a teacher is finding tools for each singer so, that she/he could be free to sing as her/his own needs and will as a guide. Finding one's own voice and the freedom to express oneself in music is important to her both in teaching and in music, as is the joy itself while learning by doing.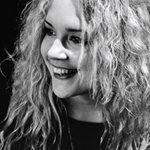 Har du frågor?
Kontakta Kundtjänst i Stockholm