On this Lead Guitar course for beginners, we go over the technical training to develop your skills and enhance your musical vocabulary with groups of scales, techniques and case studies followed by analysis, so you can learn how the great solos are created.
We will be using tablature in PDF files if you don't have a Guitar pro software, loops in mp3 for training and you will have weekly homework and a final project to present at the end of the course.
Goals
Learn the main tools to create killer guitar solos! On this course, you will have access to techniques and strategies to develop your music vocabulary and sharpen up your skillset.
Target group
The course is open for those passionate about guitar solos and with the desire to learn and how to create, implement and improvise solos over chord progressions.
Contents
Notation, Chord Diagrams, Tablature System, Guitar pro files, mp3 looping for training and backing tracks.
Songs analysis and breakdown. ( Case studies )
Studies over: Pentatonic Scales, Diatonic forms and Greek Modes.
Techniques:
Legatos
Tapping
Sweep
Alternate Picking
Hybrid Picking
Arpeggio
Online Tools and Equipments
The meetings will be via Zoom, and here are some of the essential requirement you need to make this happen:
Your own Guitar
High-speed internet connection
Computer, with enough processing power to send and receive streaming video and audio (anything on today's market can handle it)
Webcam, either built-in on a laptop or bought separately
Microphone, again either built-in or separate
Wait for the Zoom invitation and start your lesson
Kursledare
Thiago Trinsi
Thiago Trinsi is an Artist, Producer, Composer, Orchestrator, and Music & Technology Specialist with a Master Degree in Orchestration for Films, Games, TV and more than 20 years of experience teaching electric guitar in Brazil, USA, Iceland and Sweden. His activities also include touring abroad with guitar clinics, master classes, lectures and works like online teaching since 2007.
Author of "10 Guitar Studies to Boost Your Alternate Picking Technique", a video lesson package, Thiago is a multi-award winner guitarist placed within the top 3 best of talent revelation in the world of the international guitar competition.
In 2020 he got the title as the Teacher of the Year from one of the most prominent online educational institutions in New York, and this had repercussions even in the Swedish media.
His music projects collaboration extend across the continents with artists, producers and companies from Brazil, USA, Uk, Canada, Australia, Italy, France and Greece, to name a few. Coming from Brazil, which is well known for its rich and diverse music culture, his steps of education also includes a prestigious Berklee College of Music - USA and Chichester University - UK.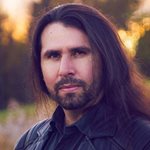 Har du frågor?
Kontakta Kundtjänst I Jönköping