All dance has a clear common ground with basic movements and just enough challenging moments according to the children's age. With imagination, we spin, roll, jump and coordinate different steps with our arms. When we move faster, slower, sharper or more smoothly we create different kinds of movements. And with the help of music we can combine those movements to achieve the right ballet feeling.
In addition to the playful learning of the dance stages, the children will also experience working together in groups. The roll call at the beginning of the class is very important to enable the children to feel safe and to be seen.
The dance class is accompanied by a musician.
The classes are based on the age of the children. To participate in a group for 3 year olds, you must have reached the age of three when the course begins.
Discounts:
10% sibling discount for children and adolescents up to and including 12 years.

Kursledare
Ievgeniia Iashchuk
Ievgeniia is an experienced dance and ballet teacher, choreographer and artistic director with more than 10 years of experience in ballet, contemporary dance, jazz, choreography and performance techniques who can work with dancers and children of all ages and experience levels.
She has planned, organized and directed choreography for many ballets and shows in more than 5 countries. In China, she was an artistic director since the opening of the First Ukrainian Ballet School for more than two years. She has choregraohed more than one hundred dances for children, including ballets, modern and folk dances.
"For the last ten years of experience I have learned the way to communicate with children in various age, nationality, temper and motivation. As the result, I believe that every child has a talent and uniqueness. As a teacher, I would like to develop their strengths and talents in their best. Their happiness is the key for my classes, that's why I teach them how to enjoy the art of dance. Thus, I strongly believe that love and kindness is the main motivation of learning."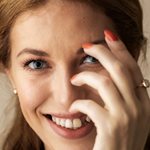 Recba Balettakademien
Har du frågor?
Kontakta Kundtjänst Balettakademien i Stockholm