Dance as an artform should be available to everyone, especially in times like these. The importance of movement, the freedom it offers and the strength in being able to express oneself through dance is essential!
CHARLOTTA ÖFVERHOLM offers Age on Stage workshops for anyone over 65 years old. She has created a unique form of working with movement and creativity no matter your age or who you are. The workshop requires no prior dance experiences and is adjusted after the group, at the same time as it challenges the individual. The workshop is about exploring movements in our own body and how we can express ourselves through it. We work both on a physical level with warm up and exercises as well as on a creative level with improvisations, text and music.
Level
All levels, for participants over 60 years of age.
Booking
To book the course, please press "BOKA KURSEN NU". You will then be redirected to a booking form.
OBS! Begränsat antal platser.
Kursledare
Charlotta Öfverholm
Charlotta Öfverholm studied dancing at Balettakademien in Göteborg with Lia Schubert, continued at Alvin Ailey's American Dance Theatre in NY, and is a graduate of UCLA in Film/TV/Video and from The Lee Strasberg Theatre Institute in LA.
She has had a long international career with companies such as DV 8 Physical Theatre/ London, Bill T. Jones and Complexions/ NYC, Joseph Tmim Toláda /Berlin, Ramon Ollers Metros/ Barcelona, Cie Corinne Lanselle/Paris, Farm in the Cave/Viliam Docolomansky/Prague, Dorte Olesen and Björn Elisson Kompani in Stockholm. She is currently working with Alexander Ekman.
Lead roles include DEATH in SJUNDE INSEGLET by Ingmar Bergman directed by Benke Rydman and Hugo Hansén, Shakespeare's Hamlet (Landestheatre Linz by Robert Poole), Alice in Alice in Wonderland (Stadttheater Giessen by Roberto Galvan), and Lola in Lola and Mr Talk at Divadlo Archa (by Jan Kodet) for which she was nominated for a Thalia Prize at the National Theatre in Prague CZ.
Charlotta choreographs commissioned works for companies such as GöteborgsOperan, Norrdans, RTV Borås. Folkoperan, Tanztheater Münster, Landestheater Linz, VerTe dance Prague and Peridance CDC among others as well as for film and TV.
She teaches and choreographes for schools and universities all over the world and enjoys meeting and giving to new generations of dance.
She is the coordinator and programmer of Balettakademiens International Summer Festival in Stockholm since 2005.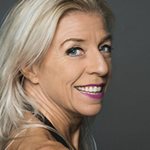 Har du frågor?
Kontakta Kundtjänst i Stockholm