Dmitry Zagrebin was born in Moscow, Russia, the son of two former Bolshoi Ballet dancers. Following in their footsteps, Dmitry studied at the Bolshoi Ballet Academy before joining the Bolshoi Ballet in 2007. In 2012, he was named a soloist at Stanislavsky Ballet in Moscow and in 2015, he joined the Royal Swedish Ballet as a soloist, before quickly being promoted to the rank of Principal. His repertory includes leading roles in most of the classical ballet repertoire such as Christopher Wheeldon's Alice in Wonderland, Rudolf Noureev's version of Don Quixote, Marcia Haydee's Sleeping Beauty; to name a few. Zagrebin has garnered a number of competition awards, including gold medals at the International Ballet Competition in Seoul and at the Moscow International Ballet competition. He was nominated for Benois de la Dance Prize for his performance as Basilio in Roudolf Noureev's version of Don Quixote.
Level: Intermediate - for intermediate participants, vocational students and professional dancers over 13 years of age.
Booking: To book the course, please press "BOKA NU". You will then be redirected to a booking form. The form is also available in English.
OPEN: Drop in/single class is available
If you want to try out several different classes and techniques - BA Summer Dansa-kort is perfect for you! Read more here: BA Summer Dansa-kort
Kursledare
Rosely Chamma
Rosely Chamma började sin karriär som ackompanjatör till balettklasser under 80-talet i Sao Paolo i Brasilien. Hon har där spelat till allt från barndansklasser till professionella kompanier. Hon även gästspelat i olika shower och auditions.
Hon har arbetat med lärare som Richard Cragun, Alphonse Poullin (Juilliard School), Ben Huys (NYCB), Renato Paroni (English National Ballet), Michael Raynaud (Royal English Academy). Sedan Augusti 2020 lever Rosely i Stockholm och är en av Balettakademiens ackompanjatörer.
"När jag var ett barn var jag otroligt förtjust i att se ballerinor dansa på tå och utföra sina delikata rörelser. Jag spelar till balett för att det gör mig lycklig!"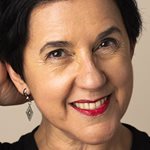 Dmitry Zagrebin
Har du frågor?
Kontakta Folkuniversitetet i Stockholm