This course is in English, but our teacher understands Swedish and will be able to answer questions in Swedish.
Course content
how to make cold process soaps from natural, organic ingredients
different oils, herbs and essential oils for soapmaking
how to use different natural ingredients to fit your personal haircare needs
This is a hands-on workshop where you learn how to make shampoo bars and hair rinse from scratch. Your products will be free of chemicals and synthetic ingredients.
Making your own shampoo bars reduces packaging and is environmentally friendly. This is a great workshop for you who is looking for a way to live more sustainably and reduce waste.
Course disposition
You'll be guided step by step through the process of making ecological shampoo bars that are gentle and suitable for your haircare needs. The soap recipes are well-tried by your course leader and ensure that your soap will have a long shelf life/use by date.
The soap will need to cure for 4-6 weeks after the workshop before you use or give as gifts. Curing allows the soap to harden.
Your classroom have all the necessary equipment. After the course you'll get the printed recipe and your personalized soap that you made.
Materials
Cost for materials is included in the course fee. All ingredients and materials will be provided at the workshop, You'll be able to take the products home after the workshop.
Who's the course for?
For anyone who wants to make environmentally friendly and homemade products with all-natural ingredients. The workshop will be held in English.
Book the course by clicking the red button Boka kursen nu. There is an option to choose a booking form in English.
Regarding covid-19
Welcome to Folkuniversitetet. In order to ensure a safe study and environment and to prevent the spread of covid-19, we follow the Swedish Public Health Agency's regulations and recommendations.
If the Public Health Agency's recommendations regarding physical classroom teaching change at the start of the course or during the course, we will contact you.
Kursledare
Tiffany Komosa
"All workshops are hands-on learning experiences where you are guided step by step in the process of making your own body and home care products."
Tiffany Komosa has 8+ years of experience making organic soaps, cleaning products and skincare.
Education experience: Tiffany previously worked as a trauma counselor with children and young women. Her work as a counselor included restorative therapy through hands-on activities such as gardening and soapmaking.
Who is the person: Tiffany, a Chicago native, moved to Sweden in 2014. Tiffany is a gardener who loves growing her own produce, foraging and creating recipes. Tiffany is passionate about living more sustainably and using what nature provides to care for our bodies and homes.
Vision with learning: All workshops held by Tiffany are taught in English. Questions in Swedish are welcome. All workshops are hands-on learning experiences where you are guided step by step in the process of making your own body and home care products. In addition, you learn about the benefits of the raw ingredients you use and how to select ingredients to fit your personal skincare needs.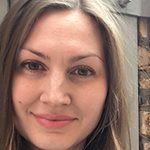 Har du frågor?
Kontakta Kursverksamheten i Malmö